Staying safe when using supplemental heating in your house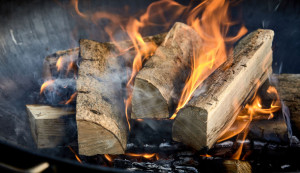 Winter brings us all closer together — quite literally, as the chill in the air makes us want to huddle up next to each other on the couch to stay warm. For many, this means using space heaters, fireplaces and wood stoves for additional warmth. Yet each of these devices can lead to house fires if used incorrectly. And some homeowners insurance policies prohibit the use of certain supplemental heat sources, so you'll want to review your policy to make sure you're covered.
It's estimated that nearly one half of all households uses a fireplace, wood stove or space heater during the winter months. Here are some important safety tips from the Red Cross for anyone using supplemental heat sources during the winter months at home:
1. Did you know that space heaters are responsible for half of all winter home heating fires? Never leave portable heaters, fireplaces or wood stoves unattended or in use while you're sleeping. Turn off space heaters and make sure any embers in the fireplace or wood stove are extinguished before going to bed or leaving home.
2. Place your space heater on a level, hard and nonflammable surface. Avoid using an extension cord — plug a space heater directly into an outlet.
3. Consider using only those space heaters that shut off automatically if the heater falls over.
4. Keep children and pets away from space heaters.
5. Keep all potential sources of fuel at least three feet away from space heaters, stoves and fireplaces. This includes paper, clothing, bedding, curtains and rugs. Flying sparks from stoves and fireplaces are a common source of home fires, so consider using a screen.
6. Install smoke alarms on each level of your home and inside every bedroom. Test monthly, replace batteries once each year and replace alarms every 10 years.
7. Develop a fire escape plan and practice it at least twice a year with everyone who lives in your home. Ideally, you should have two ways to escape from every room. Designate a meeting place outside your home in the event of a fire.
8. Before using your fireplace or wood stove each winter, have it professionally inspected and if needed, cleaned. Creosote buildup in your chimney can cause a home fire.